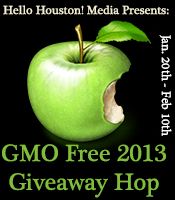 You know how much I campaign against GMO's. They are harmful to environmental, animal and human health, contaminate our heriloom seed supplies dwindling natural species across the world, increase the use of herbicides, they take the ability of small independant farmers and garden growers to have control over their own food supply and so much more! This is why I decided to join the GMO free giveaway hop. To raise awareness and supply you with the chance to win some amazing, natural, GMO free products from Elderberry Life.
Welcome to the GMO Free 2013 Giveaway Hop, hosted by Real Houston Housewife and Hello Houston! Media. To introduce our readers to new GMO Free options in 2013, members of the Hello Houston! Media Blogger Team have come together to offer giveaways of their favorite GMO Free products. Be sure to visit Real Houston Housewife to enter to win one of the grand prizes, totaling over $400, sponsored by: Little Soya, Bob's Red Mill, Pure Indian Foods, Cultures For Health, Little Duck Organics, Amy's Kitchen, Alter Eco and Kurrenci.
After entering my giveaway below, please visit the other blogs listed under the Rafflecopter form to find the rest of the GMO Free giveaways.
I am giving away a six pack sampler just like the one I received to review (you can see the review here). These are some amazing delicious products including Elderberry Aid, Elderberry Herbal Cordial, Peach and Regular Elderberry Juice and Elderberry Jam and Jelly.
Enter to win in the form below. Good luck! 
a Rafflecopter giveaway


');