I love pancakes. Who doesn't? Those light, fluffy, delicious morsels of joy smothered in butter and syrup are so warming to the soul and remind me of simpler days.
I have to say that since going grain free the lack of pancakes has been my bane. Every time I have tried a gluten free or grain free pancake I have been disappointed. The texture or flavor is always off leaving me sad and dejected. That is why I want to share this recipe.
This is an adaptation of the Pumpkin Pancake recipe from "Practical Paleo" (which you should totally get if you haven't already). Her pancakes were a little egg-y for me so I made some pretty minor adjustments. These are delicious. They are fluffy and bubbly like pancakes. They don't have the EXACT texture as regular pancakes but still fill that happy place where pancakes used to live. Bonus is this is the ONLY way to get my daughter to eat eggs AND it is spiked with vegetables. Mamma win. Also, I never have been able to make perfectly round good looking pancakes so no judging on the picture please. They are tasty with a great texture, that is all that matters right?
Grain Free Pumpkin Pancake Recipe and Simple Meals Friday 5
Recipe Type
:
Grain Free Breakfast
Author:
Prep time:
Cook time:
Total time:
These grain free pancakes are delicious. Great for the Paleo/Primal diets as well as GAPS/SCD by eliminating the baking soda. This recipe is adapted from the book "Practical Paleo".
Ingredients
8 eggs
1 1/4 C Pumpkin Puree (I used homemade but you can use canned too)
1 TBSP Coconut Flour
3 tsp pure Vanilla Extract
3 TBSP pure Maple Syrup or Honey
2 tsp pumpkin Pie Spice
1/2 tsp aluminum free baking soda *eliminate if following GAPS*
Butter or Coconut oil to cook pancakes in
Instructions
Whisk the living hell out of the eggs. You want them nice and fluffy, ideally doubling in volume. This CAN be done by hand but is much easier with the use of a mixer or hand held blender.
Combine pumpkin, vanilla extract, and maple syrup and whisk some more. I had to use the hand blender because I used homemade pumpkin that was a little stringy.
Sift in the coconut flour, pumpkin pie spice, cinnamon, and baking soda and stir.
Melt oil in a large pan or skillet over medium heat. Make sure the pan is properly heated before adding the batter. I found that I needed to use enough oil to coat the bottom of the pan to avoid sticking or scrambling.
Use a 1/4 C measuring cup to pour the batter into the oil. The edges will cook immediately.
Let cook until the center bubbles. Sometimes covering the pan with a lid briefly will make this happen quicker.
When the middle is bubbly flip the pancakes.
Serve with a nice dollop of grass fed butter and enjoy!
Doesn't this sound delicious? I found it is sweet enough that I did not need more syrup but eat to your hears content and enjoy!
Do you have a favorite simple meal you would like to share? Link it up to Simple Meals Friday!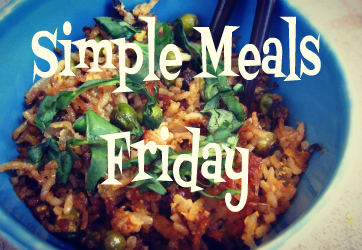 Welcome to Simple Meals Friday!
There is nothing like having a collection of simple meals to throw together in a slow cooker first thing in the morning or in a skillet as a last minute dinner. What are your favorite slow cooker, rice cooker, skillet meals and salads? We want to know your easy to make meals. It's great learn and be inspired by others. When you link up on either of our sites the links will show up on both blogs.
Meet Your Hosts
Amanda of Natural Living Mamma
Please Read and Follow these Simple Meals Friday Rules
Keep the foods "nourishing", such as homemade chicken stocks, whole grains, vegetables, fruits, healthy fats (lard, coconut oil, butter, olive oil, tallow), unrefined sugars, flours and salts and meats.
Please don't include recipes using processed oils such as soy and canola oil, msg laden bouillons and other highly processed foods. Try to incorporate traditional methods of preparing foods like, sprouting, soaking, sourdough and lacto-fermentation. If I notice a recipe using these ingredients it will be deleted. Link back to this blog hop, it is a common linking courtesy. It helps to build a stronger blogging community. That way we can all learn and share with each other. We enjoyed reading all your submissions. Both hosts will pick a favorite post to feature on next week's Simple Meals Friday. If you want to be featured be sure to link back to this blog hop. 
Host Picks From Last Week's Submissions
The Suburban Girl Goes Country shared this
tasty treat
!
This post shared on: Fill Those Jars Friday, Small Footprint   Anti-Procrastination Tuesdays, Fat Tuesday, Tuesday Greens, Traditional Tuesdays, Living Green Link Up, The Gathering Spot, Frugal Days Sustainable Ways, Healthy 2day Traditional Tuesdays, Living Green Link Up, The Gathering Spot, Frugal Days Sustainable Ways, Thank Your Body Thursday